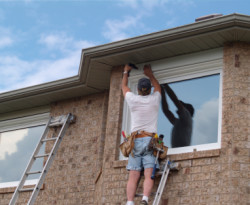 Having a good set of windows on your house is important, as these products can not only increase the aesthetic appeal of your home but also protect it from the elements and help keep your heated or cooled air on the inside where it belongs. To maintain your home windows in great shape, it's important for you to hire a window contractor at the first sign of disrepair. Over time, windows often break down, but getting repairs or window replacement can help you to protect your home and keep it looking beautiful for years to come. The window experts at John Kat Windows and Doors can help you with repairing or replacing windows when you need it the most. Repairing and installing windows is our business, and our team of window experts has over 30 years of experience helping homeowners protect their residences with our precision window services. When you want top-notch installation or repair for the windows on your home, pick up the phone and call John Kat Windows and Doors. Our experts are waiting to answer your questions and offer you a free estimate for window installation on your Long Island-area home.
Window Replacement
We're the window company that you can trust to provide you with expert installation of new windows. We can offer window replacement for one window in your home or provide you with new windows for the entire house. If you want to reduce the size of your windows or create a space for larger windows, we can meet your needs. Installing windows is what we do best, and we'll be happy to help you get a replacement that will beautify and protect your home. We can even install the interior casing trim around your new windows for a truly beautiful finish. Unlike other window companies out there, we do more than simply offer replacement services. We also take the time to clean up after ourselves, ensuring that your home is undisturbed and looks lovely and neat once we're done. When you want a window company that you can rely on for high-quality replacement services and superior customer service, we're the pros to call!
Window Repair
In addition to offering window installation, the pros at John Kat Windows and Doors also offer window repair services. If you're not ready to shell out the money for a new set of windows, our window contractors can help to repair damages to your existing windows. We're experts at storm damage repairs, so whether your home windows have been damaged by rain, hail, sleet, snow, or wind, our team can offer you professional repairs that will last.
The great part is that we offer a one-year labor warranty, which means that you can rest easy knowing that your window repairs and installations are of the highest quality. Call or e-mail us today to talk about your options for repairs or replacement!