Have your windows or doors been damaged by a strong storm? Do you want to make your home more energy efficient? Is the vinyl siding on your house broken or damaged? If you have any of these problems, then you need John Kat Windows and Doors. Our team of insured window replacement and door replacement professionals can offer you some of the best repair and installation services available in Long Island and the surrounding communities. Don't let your home go unprotected due to worn-out windows, damaged doors, or cracked siding. Instead, let the window and door contractors at John Kat Windows and Doors help you. Call us today to get a free estimate!
John Kat Windows and Doors is your one-stop shop for all of your door and window replacement and repair needs. We even provide house siding repairs for when that vinyl needs a bit of TLC. Whether you want to replace the front door on your home, need vinyl siding repair, or desire new replacement windows for your entire home, our team is at your service. We have the tools and expertise to provide you with high-quality results, efficient turnaround times, and exceptional value, a combination that other door and window companies simply can't provide. When you need window or door installation, put your trust in our contractors.
Efficient Workmanship and Available Emergency Services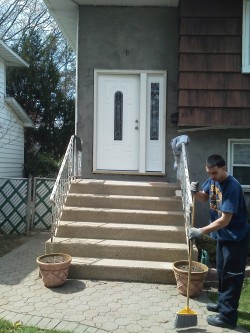 As a family-owned company, we know how important it is for your windows and doors and even vinyl siding to be in tip-top shape at all times. That's why we are proud to offer emergency services to homeowners who need window repairs or door replacement right away. Some door and window companies will only offer their services during regular working hours, and this just doesn't work for homeowners who need immediate assistance. If you're in a bind, call us now to get the help you need.
Experienced Door and Window Contractors
When it comes to protecting your home and keeping it beautiful, you need door and window contractors who have the right level of experience. At John Kat Windows and Doors, our team of window replacement and door contractors has over 30 years of combined experience, which means that we've pretty much seen it all when it comes to screen repair, replacement windows, and more. We started our business in 2004, but our professionals have been in the industry, working on everything from exterior doors to window installation, for more than three decades. Over the years, we've gained a high level of expertise that allows us to offer you superior window repair and door installation services. In addition, we also offer a one-year labor warranty on our repair and replacement services, so you can rest assured that our work is top quality. Call us today if you want to protect the investment you've made in your home!